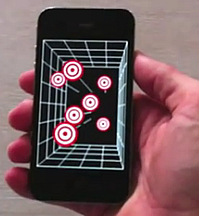 Here is this week's edition of "The Weekly Click"!  Leave your feedback and add to the conversation.  Enjoy!
This Week's Featured Link:
New technology is currently being developed that will allow for 3D projection on mobile devices such as the iPad and iPhone--without 3D glasses!
The French company Head-Coupled Interactive has developed technology that uses the front-facing camera on a mobile device to create this type of display! The position of the person's head is all that the technology needs in order to adjust the 3D image's perspective.  If successful, this technology could entirely change the way that we see things in 3D and add a fun new element to developing media.
What FableVisionaries are clicking on, reading, and talking about this week:
Apps/Games Toddler User Interface Guidelines Great blog post written by a parent that discusses what makes up a good app for toddlers.  Lots of great advice on things that do or do not work well in the interface design.
The World Of Children's Apps: A Shakeup? Very interesting blog post on the evolution of apps for children and how it will impact parent's ability to determine the educational value of them.
Children's Television PBS Kids Debuts Two Web-based Series With media shifting from television to the web, PBS Kids continues to lead the charge in creating web-based series.