The Unexpected Playmate is a collaborative animated short about imaginary friends by FableVision's fall 2017 art/animation interns, Hang Li and Anastasia Ricoy. Inspired by the poem The Unseen Playmate by Robert Louis Stevenson, this is a story about friendship, imagination, and play.
"I strongly believe in the power of friendship and imagination. In my mind, poems provide huge resources for storytelling," shares Hang. " As one of the oldest art forms, poetry is an essential way to gain an abundant cultural heritage and immaterial treasure. I am eager to transfer this verbal language to visual language."
Hang and Anastasia decided to share their telling of the story through moving animation, allowing them to collaborate, bond, and become friends.
What inspired you to create The Unexpected Playmate?
Hang and Anastasia: We wanted to create an animated short that showcased the power of imagination, play, and friendship. Hang is particularly fond of poetry, and we wanted to see if we could pay tribute to one of her favorite poems by bringing it to life with our respective talents.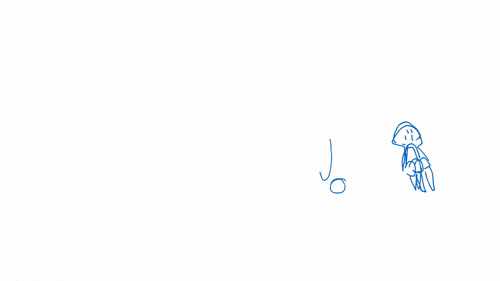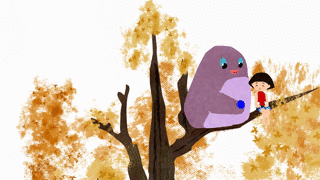 Could you tell us about the animation process? What elements went into production?
Hang: In pre-production, I created character designs and storyboards for the film. In order to clarify the story, I used various camera movements to show different visual experiences in one shot. This was the biggest challenge for me, but I enjoyed playing within the frame. I animated three scenes, including the changing of the leaves and snow effects, while Anastasia marked her playful storytelling in the treetop scene. Anastasia also had the idea of scanning watercolor textures to overlay on our work, adding a lively, illustrated element that we both really loved.
What did you both learn? Any final thoughts?
Anastasia: I've worked collaboratively before, but this was a new experience to me. We worked in a wonderful studio environment and animated. Along with many new techniques, I learned about the importance of working on a schedule. We made room for challenges that could arise during the project and, thanks to the help and support of the FableVision team, we were able to finish by our deadline with a story we are both so proud of.
Hang: Working on this independent project taught me a lot about storytelling and teamwork. A good story needs collaboration, communication, and sincerity. Many thanks to Hannah for her infinite wisdom, and to Mitul and Sarah for giving us the marketing tools to share our story.
I truly enjoyed this precious and valuable experience at FableVision.
Interested in learning more about internships at FableVision? Check out our Jobs & Internships page!