An explorer by nature, Taryn Johnson believes that art and science don't have to be exclusive. As a student at Hampshire College, Taryn designed her own curriculum – one that included both art and science – giving her the flexibility to explore both.
"Art is a way to share and express the things that really stuck with me from my classes, and science was a source of inspiration in my art classes," she explained.
This fusion of her passions would shape her senior thesis and eventually lead to an internship at FableVision Studios that evolved into a job as a production artist and animator.
Her quirky style, unique perspective, love for animals, and zest for learning makes Taryn a valuable addition to the FableVision family. But it's her ability to learn new things quickly – from video editing, to animation, to programming – that makes her a go-to-person in the Studio. As May's FableFriday, Taryn shares how she keeps the sense of wonder instilled in her from the ocean prevalent in her creative process today.
At Hampshire College you studied animation and marine biology, how did you strike a balance between art and science?
I was always seeking to combine the two and that culminated in my senior thesis. I spent the year making interactive animations about marine science. There was a plankton "microscope" where you could continue magnifying a dish of water to see animated critters inside. I made a geologic timeline to show the scale of Earth's history, and all the strange animals that have lived in its prehistoric seas. There was also a piece about sea otters and their importance as keystone species.
How do you find that your interests in art and science are used in your job at FableVision?
One of my favorite things about science is sharing the things I learn, and that happens all the time at FableVision! I have a special fondness for the projects related to animals, marine biology, and evolution, but all of the work we do is fun. Each project brings with it something new to learn.
You're like a Swiss army knife, able to do many different things on a variety of projects. What are your typical responsibilities?
I enjoy learning how to do something, and I pick things up quickly, which I think has led to my diverse collection of skills. It's great because my role on a project is always changing, and I'm always learning something new. Some of the tasks I have include character animation, animatics, motion graphics, design, special effects, video editing, illustration, sprite sheets, optimizing art files, and even programming! I think working on so many different sides of a project gives me a better understanding of each part of the process, and in turn, helps me do a better job at the portion I'm working on.
Can you walk us through your animation process?
This depends a lot on the kind of animation. For some styles of animation, I'll take the character design, break it into pieces, and rig it… kind of like a puppet! Other projects require more drawing, or are more motion graphics based – moving text, shapes, and designs around the screen in a way that conveys information successfully, but looks nice, too. Sometimes I take illustrative backgrounds and add a little motion and light to make it feel more dynamic… like a waterfall with mist, or a flock of birds in the sky. I really enjoy taking artwork by the illustrators and adding my own part to it.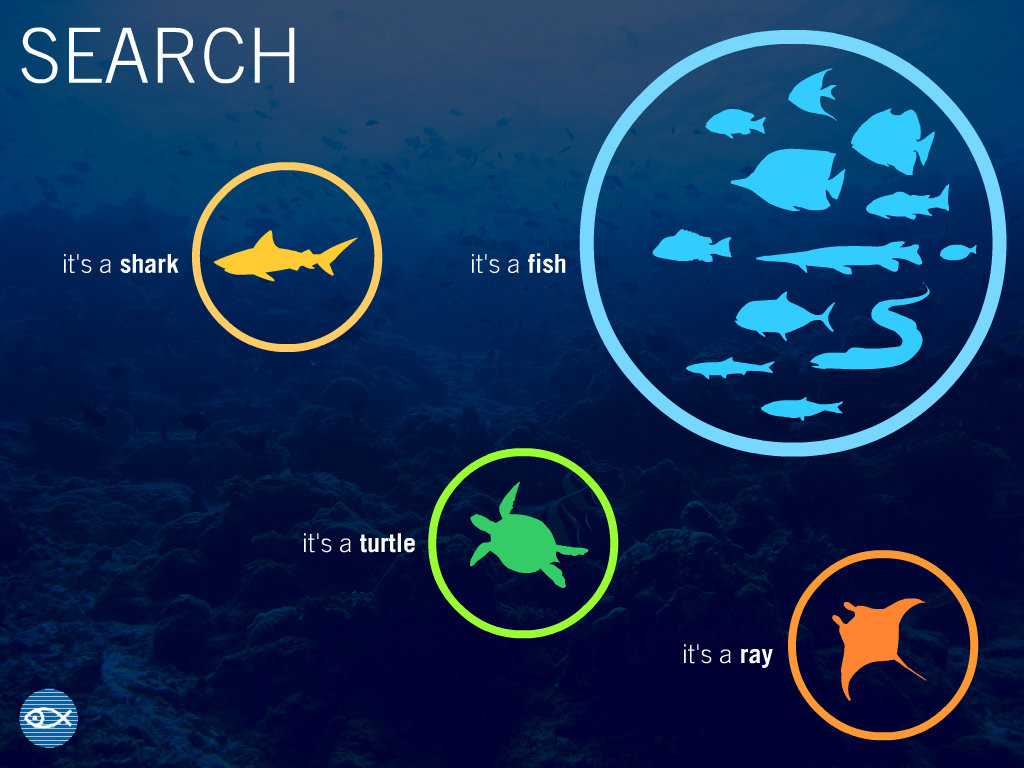 What has been your favorite FableVision project to work on?
I enjoyed working on the Mission Animal Rescue videos we did for National Geographic Kids. It was a combination of animation and video, so I was either animating, or watching through footage NatGeo sent us of lions, wolves, elephants, and polar bears. I learned so much about the animals and the threats that face them. And, I truly felt like I was contributing to an issue I personally care about.
Another project that stands out to me is the Fish Identification app we made for the New England Aquarium. The ipad app helps visitors identify and learn more about the fish and other animals in the Giant Ocean Tank. Working with New England Aquarium was great, and it was so rewarding to visit the aquarium and see something I helped make in action!
You are our resident Zoombinis super fan, can you share a bit about why you love this game?
The closest thing to video games I had growing up was educational computer software and Zoombinis was one of my favorites. I spent hours, with a friend of mine, playing that game and solving the puzzles. We had a plan to get every single zoombini to Zoombiniville. It's such a great game because it integrates math and logic into a story in such a way that the player hardly realizes they are learning. It's a challenging game, while still being fun. The narrative also drew me in. We would make up stories and drawings about the zoombinis and their journey.
What inspires you?
The ocean, the mountains, nature… little unheard stories that haven't been told. Things from my childhood still have a lasting impact on me - the books I read, the animals I liked, the places I explored. It's not so different now. I think books are probably my biggest source of inspiration though. Reading and learning still stirs up in me the inspiration to create, or share, or change the world.
You're a big outdoor enthusiast! Tell us a bit about your hobbies.
I love being outside! I ride my bike to work almost every day, which is such a pleasant experience (except for the potholes). Getting around the city by bike is such a great way to be environmentally conscious, get exercise, enjoy the weather, AND get where you're going faster. Even biking in the rain can be fun!

My interest in learning new things has led to a lot of hobbies. I'm always trying to split my time between yoga, climbing, camping, and sailing. And finding time to spend indoors reading, writing, or playing guitar. I love snow! My dad took me skiing a lot when I was a kid, so in the winter I ski and snowboard. Or just make snowmen.
And you sail a lot, right? Is this one of the reasons why you're interested in marine biology?
I grew up near the ocean, and went sailing often with my family. Besides day trips, we would spend a few weeks every summer exploring along the coast of Maine. I was always poking through tide pools at barnacles, snails, and other odd creatures. And on the open water, looking out for porpoises, harbor seals, or the occasional whale. We saw a Mola mola soaking up the sun once, and looked it up in our fish guidebook because we had never seen anything like it. I remember making a "periscope" out of a cardboard milk carton and saran wrap to peer at the strange things growing under the docks while my dad did work on the boat. My sister and I even managed to catch a jellyfish once, but it didn't look like much once it was out of the water. The ocean was this great, mysterious place, always changing, and continuously full of new things to discover. I think that stayed with me as I got older, and I've kept that fascination for the strange and vibrant world that exists underwater.